The digital world is facilitating innovative and more convenient solutions for people every day. For every small and big task, mobile apps guide the users to utilize more accessible solutions.
Right from their introduction a few years ago, on-demand taxi apps have witnessed rapid expansion due to the convenience they provide. Today, we will discuss the benefits of investing in an on-demand taxi dispatch app for your business.
The use of on-demand taxi apps is on the rise, and people have ditched traditional booking practices for one-click, instant cab booking service that a taxi booking and dispatch system offers. This has created lucrative opportunities for taxi operators and business owners. Today, we'll delve into the reasons why every taxi business owner should invest in an on-demand taxi dispatch system.
Increased Relevance of On-demand Taxi Dispatch Apps in 2020
The days are gone when we had to book taxis by making calls and through booking agencies. Earlier, the callers would provide information about their whereabouts, such as name, address, and destination. The operator would then fill the details in the system, locate the nearest taxi, and allocate the available driver to the rider.
This process might sound simple, and it could be if there were a dozen drivers and a few customers to manage. But monitoring and allocating hundreds of drivers and endless numbers of calls all the time was hectic. This led to more complications and less convenience.
Now, with on-demand taxi apps, there's no need for an intermediary operator. The customer can enter his location in the app, find the nearby taxis, and talk to the drivers in real-time. The driver, on the other hand, gets a notification that a customer wants a ride. This seamless synchronization between the customer and the driver has made taxi booking easier, faster, and convenient.
Impact of COVID-19 On the Taxi Industry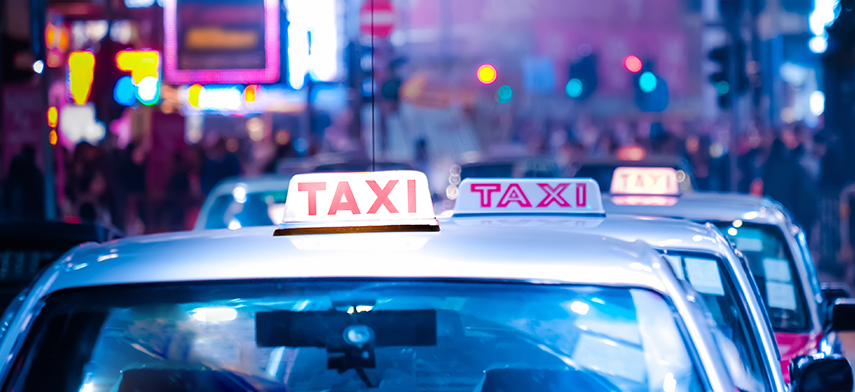 COVID-19 has adversely impacted the taxi industry. The global taxi as well as limousine services market is anticipated to decline from $83 billion in 2019 to $46.7 billion in 2020, with a CAGR of –43.7%.
Several reasons have contributed to this decline. Lockdown and social distancing measures in various countries have slowed down taxi booking and usage. The shutting down of offices and shops has reduced the demand for dispatch taxi service. Besides, the restriction of ride-hailing services has also inflicted a plunge in demand.
Now, with countries slowly opening up, the taxi industry is set for a revival. The market is expected to recover by late 2020 and early 2021, followed by a growth of 6.5% to reach $94.4 billion by 2023.
On-demand Taxi Apps Playing a Pivotal Role Amid the Pandemic
Though the demand for taxi services is plunging, Whitelabel taxi solutions are emerging as a game-changer during the pandemic. Before the COVID-19 outbreak, people were increasingly relying on ride-hailing services for their transportation needs. Now, as the risk of transmission increases, people prefer to avoid stepping out of their homes.
Despite a decline in business, taxi businesses are utilizing digital solutions to bring about a positive change amid the pandemic. For example, Envoy is a London-based courier delivery service that connects more than 400 black cab drivers to businesses needing delivery. The use of location technology has also emerged as a key to shoulder the burden of food delivery from supermarkets and grocery stores.
Similarly, GETT, a global taxi platform, has partnered with NHS to transport suspected COVID-19 patients to the nearest hospitals, thereby easing the burden on ambulances.
And once the pandemic diminishes, the demand for on-demand taxi services will boom. According to Grand View Research, the global on-demand transportation market could hit $305 billion by 2025, with taxi services being the primary driver.
Therefore, now is the time for taxi businesses to invest in on-demand taxi solutions. The post-pandemic era would witness a surge in ride-hailing services, making a taxi dispatch app an excellent investment.
Benefits of Investing in a Taxi Dispatch System
On-demand taxi apps provide excellent booking experience to customers as they can communicate with the drivers in real-time. And with smartphone and internet usage growing across the globe, the use of taxi apps will increase even more. Here are some reasons why an open source taxi dispatch system is a vital investment option for taxi businesses.
1
Increased visibility
Customers find it easy and convenient to book cabs using a mobile application. It eliminates the hustle of calling the booking company, waiting in the call queue, and waiting for the driver to show up. With on-demand taxi apps, consumers can book cabs and track driver locations in real-time.
Since more users are booking taxis using mobile, having a taxi app for your business can help you connect to a larger audience. It enables you to gain visibility and attract more customers compared to the traditional office booking system.
2
Real-time feedback
Customer feedback and customer satisfaction go hand in hand. Feedback allows you to identify the areas where you're performing well and the areas that require improvement. A taxi app has a built-in feedback feature that encourages your customers to give feedback about your services.
3
Real-time location tracking
A taxi dispatch software allows a rider to track the location of the driver in real-time. At the same time, the driver can also follow the location of the rider. Therefore, the driver can take the shortest route possible, which reduces time and fuel consumption. Besides, when the drivers pick customers on time, it increases customer satisfaction.
4
Put your business on auto-pilot mode
Back in the day, getting a customer was a tedious task for drivers. Taxi drivers had to look for customers. The customers would then inspect the taxi and negotiate on a price. Taxi dispatch apps have eliminated these roadblocks. Taxi drivers no longer need to chase customers. The app provides all the details, including the location of the cab and payment information. This puts your business on an auto-pilot mode as you don't need to look for customers and talk to them continuously.
5
Increase brand awareness
Brand awareness is the key ingredient for growth in any business. Uber, for example, operates in about 83 countries and 670 cities due to high brand awareness. The company managed to develop and market a successful taxi app, which catalyzed its growth worldwide. As discussed, a taxi dispatch app increases your visibility and puts your business in front of a broader audience. And if you develop an effective, user-friendly app that makes your customers' lives easier, you'll surely get the recognition and awareness you desire.
6
Monitor driver performance
Many taxi business owners overlook the importance of monitoring their driver performance, as bad driving behaviors can hurt your revenue and business. Taxi apps allow you to monitor your driver behavior in real-time. You can analyze metrics like speed driving, harsh braking, break times, and fuel consumption to train your drivers accordingly.
7
Increased profits
In the end, it's all about the bottom line. You should invest in a taxi dispatch system because it brings more business and increases your profits. If you are working with other taxi aggregator apps, you might already be losing a portion of your earnings by paying hefty commissions. With your taxi app in place, you cut down these commission costs, which increases your profit margins.
The Three Pillars of Success of a Taxi Dispatch Application
As discussed, the benefits of a taxi app for your business are unparalleled. Here are the three pillars of a cloud taxi dispatch system that catalyze the growth of your taxi business.
A feedback system

Transparency is a recipe for trust and loyalty in the taxi business. When you give your customers a chance to express their opinions, they're more likely to trust you and do business with you again. However, make sure to process the feedback and make the necessary changes.

Increase in driver's earnings

The rise of ride-hailing services has ensured that drivers don't sit idle. For any business to prosper, there needs to be an equilibrium between supply and demand. A taxi dispatch app creates a favorable ecosystem for both drivers and customers, thereby adding more balance to your business.

Quick and cost-effective

It was not always the taxi operators and drivers who struggled in the traditional taxi booking system. Customers were readily troubled by higher prices and longer wait times. A taxi booking and dispatch system eliminated this hurdle. Riders can now check the prices beforehand and book a cab instantly.
Final Thoughts,
With customers' digital needs continually changing, an open-source taxi dispatch system has become necessary for all taxi businesses. These apps enable you to reach more customers, improve dispatch taxi service delivery, increase profits, and grow your business. Not having a taxi app for your business can restrict you from growing and competing in a vying on-demand transportation market.
Author's Bio

Nitin Lahoti is the domain expert of Logistics and Transportation. He has 12+ years of experience in Design, Business Development and Startups. His expertise is in Product Ideation, UX/UI design, Startup consulting and mentoring. He prefers business readings and loves traveling.